Video Testimonials of The OB-Gyn & Incontinence Center in Arcadia, and Glendale, CA
Check out our video testimonials below! Hear what our patients are saying about us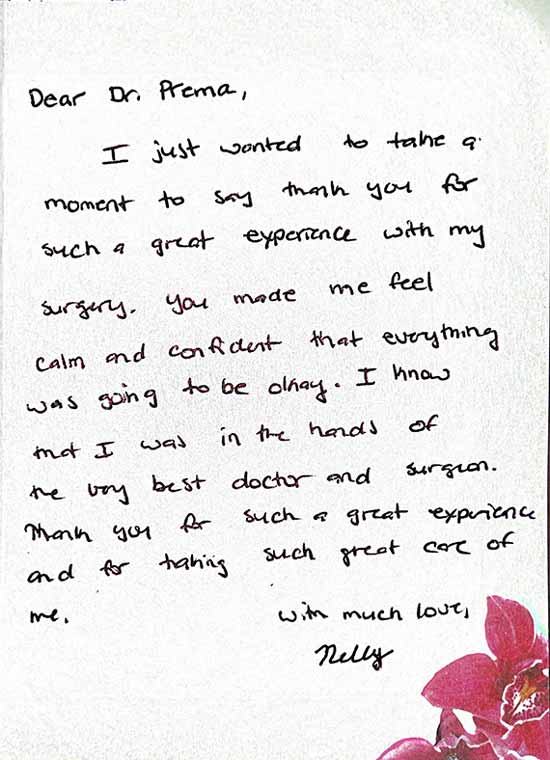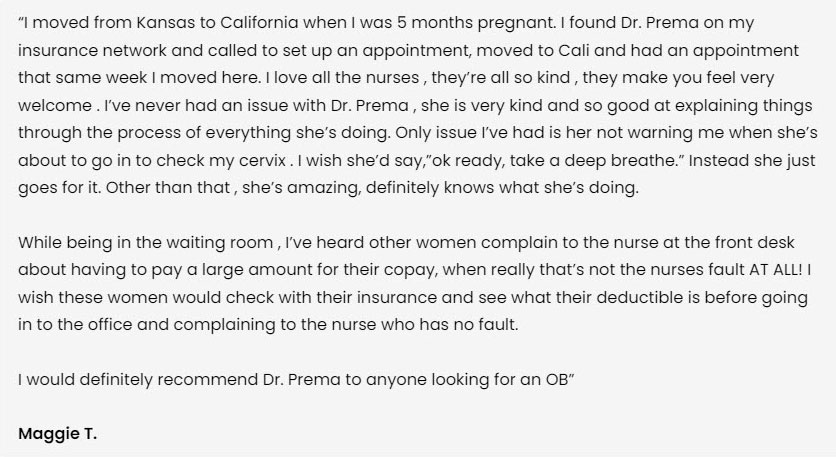 "Wonderful Doctor with great bedside manner. Very open to discuss anything you might need assistance with. I used to dread my annual checkups but ever since I found Dr. Prema that isn't the case."
Gaby O.
"Dr. Prema Has a great bedside manner and a wonderful personality. She is great at explaining and educating you as a patient and treat you as an individual. She sees my 18-year-old daughter and me at 39 years old. She Tailored our experience to what we need. Especially being my daughter's first experience at an OB/GYN, even she walked out of the room with a smile saying that she learned so much more and is excited for the next time she goes back. Thank you Dr. Premature and your staff for welcoming us, We have definitely found our family Obgyn."
Jay H.
"Dr. Prema is a great doctor, very thorough in explaining the issue at hand, very good demeanor and doesnt rush. My mother saw her for the second time today and considering it was a last minute request, was grateful to be squeezed in. Very friendly staff as well. Definitely recommend Dr. Prema to anyone seeking an obgyn."
Tracey A.
"Dr. Prema is an amazing health provider. Not only is her demeanor comforting but she is extremely knowledgeable in her field. I had to go through 4 different doctors to finally see results for my abnormal bleeding issue. Dr. Prema was the only doctor who provided me with options other than a hysterectomy, which I was not ready to deal with. I appreciated her willingness and effort to figure out what was causing my issue and explore other options to control it. Within a few visits she had my issue under control. I am grateful for her patience and understanding of my needs and I would recommend her to anyone seeking a provider who is trustworthy, knowledgeable and doubtful of their current provider. Don't settle, at the very least get a second opinion with Dr. Prema. You won't regret it."
Cym G.
"I moved from Kansas to California when I was 5 months pregnant. I found Dr. Prema on my insurance network and called to set up an appointment, moved to Cali and had an appointment that same week I moved here. I love all the nurses , they're all so kind , they make you feel very welcome . I've never had an issue with Dr. Prema , she is very kind and so good at explaining things through the process of everything she's doing. Only issue I've had is her not warning me when she's about to go in to check my cervix . I wish she'd say,"ok ready, take a deep breathe." Instead she just goes for it. Other than that , she's amazing, definitely knows what she's doing.
While being in the waiting room , I've heard other women complain to the nurse at the front desk about having to pay a large amount for their copay, when really that's not the nurses fault AT ALL! I wish these women would check with their insurance and see what their deductible is before going in to the office and complaining to the nurse who has no fault.
I would definitely recommend Dr. Prema to anyone looking for an OB"
Maggie T.
"My first visit to Dr. Prema was very pleasant. She was very informative and the staff was very friendly and helpful.
I look forward to continuing my health care here."
Danielle G.
"Really wonderful experience, Dr. Prema was a very nice woman who made the whole process a lot less daunting for first timers. She knew what she was talking about and spoke very firm yet caring. Really glad we chose her, definitely would recommend."
janice c.